Stories Of Pride
13/11/2021,4:30 pm

-

6:30 pm

FREE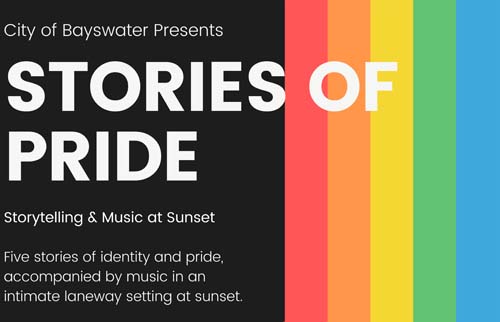 Storytelling and music at sunset in one of Maylands' laneways. Five stories of identity, reflection and pride by a panel of speakers from the LGBTQIA+ community accompanied by music in an intimate laneway setting at sunset and concluding with Q&A from the audience. Featuring Kaya Ortiz, Poet & writer, Carl Gopalkrishnan, Australian GLBTIA Multicultural Council, Natalie Latter, Rabble Bookstore, Emery Wishart, Transfolk of WA and special guest performance by Cougar Morrison.
Cougar Morrison
Local Maylands resident Cougar Morrison is the 2020 Entertainer of the Year, and one of Australia's most exciting drag superstars (if you ask her mum). Endearingly psychotic, Morrison is a singer, comedian & gender-illusionist, known for their powerful pipes and hysterical banter. After starring in Priscilla The Musical, they've gained a following as a singer in the Perth Cabaret Collective, as host of Dragqueen Storytime, and most recently as a TEDtalk presenter.
""…a vision of old world Parisian cabaret, by way of Bowie – a deliciously fierce pixie, dripping in velvet and jewels."
Western Australian Academy of Performing Arts (WAAPA) trained & New York finessed, Cougar returned to Perth where they entered the pageant world, winning everything, becoming the first queen in Perth history to be both a "Pop Princess" and "Queen of the Court." Cougar will be delivering a personal story and musical performance as part of our Stories of Pride event.
Carl Gopalkrishnan
Local Morley resident Carl Gopalkrishnan is the WA representative for the AGMC, the national peak body for lesbian, gay, bisexual, trans, intersex, queer individuals and community groups of multicultural and multifaith backgrounds. Chairing the AGMC's working group and gathering stories on the influence between Australian LGBTIQ+ communities and far-right groups. He brings experience as a former senior policy officer with the Ethnic Communities' Council of Victoria where he consulted widely with cultural and faith diverse communities on a wide range of social policies including LGBTIQ+ roundtables with major faith leaders in Melbourne to fill gaps in understanding the role of LGBTIQ+ in social cohesion strategies. As a visual artist of 35 years practice, Carl also advocates for greater diversity in the creative industries – and the visual arts in particular. His belief in the role of creative thinking in solving complex social issues is at the centre of his policy practice.
Kaya Ortiz
Kaya Ortiz is an emerging writer and poet from the southern islands of Mindanao and lutruwita/Tasmania. Her writing has appeared in Portside Review, Westerly, Tell Me Like You Mean It Vol 4, and After Australia, among others. Obsessed with identity, language and history, Kaya has performed her poetry on stages in Hobart, Canberra and Perth. In 2020 she trained in oral storytelling at the Centre for Stories in Perth, performing at the 2021 Sidewalks festival.
Kaya will be talking about her experience of how she married a man young, and after realising being queer while married, how they both navigated it together, how Kaya met her current partner and her journey in accepting her sexuality and coming out.
Emery Wishart
Trans people face disproportionally high rates of suicide with nearly 1 in 2 or 48% of young trans people attempting suicide. This is due to society continually to disadvantaging, discriminating, and stigmatising trans and gender diverse people. Emery Wishart will share his story of grappling with his identity as a teenager and how hard it was to find self-acceptance. He'll talk about how finding queer community helped him embrace and ultimately have pride in being trans.
Nat Latter
Nat is a bookseller, owner of Maylands own Rabble Book & Games and local community champion in the City of Bayswater. Nat is passionate about centering storytelling from the margins of our community and will be talking about her Rabble Books, starting it up and what it has meant to create a safe space through her business for the LGBTQIA+ community and how other businesses can do the same. Rabble Books & Games is an independent, family-run community bookshop and board games shop in Maylands who have a range of books for children and adults, and prioritise on representation and community.
The City is very pleased to be working with Nat in the organisation of this event and thankful to her for allowing us the use of her venue Rabble Bookstore.