Stories Of Pride
November 13,4:30 pm

-

6:30 pm

FREE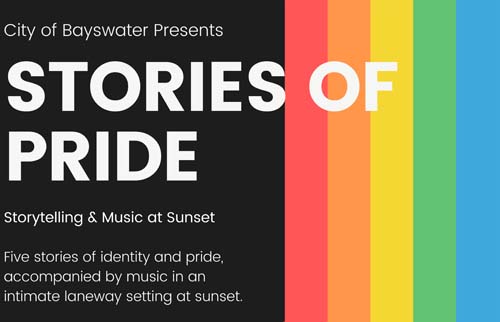 Queer Tales is an intergenerational LGBTI Literary Long Table Lunch that recognises the power of storytelling as a way of transferring social knowledge between generations.
The event will be a long table luncheon and panel discussion with LGBTI elders and current Queer story tellers, providing an opportunity to learn about LGBTI history in a profound way – through the people who lived it and those who tell the Queer stories today.
The Long Table lunch format brings older and younger members of the LGBTI community together to talk about our commonalities in a safe place over a meal. How we go through the same things despite our age, and that we have a shared history, and a shared future.
Come dine with friends, enjoy good food and refreshments, listen, contribute, and celebrate the stories of the LGBTI community.
Event will be hosted at the back of Rabble Books (Greenslade Lane, Maylands).