ADVANCE PREVIEW SCREENING OF SUPERNOVA 30 MAR 2021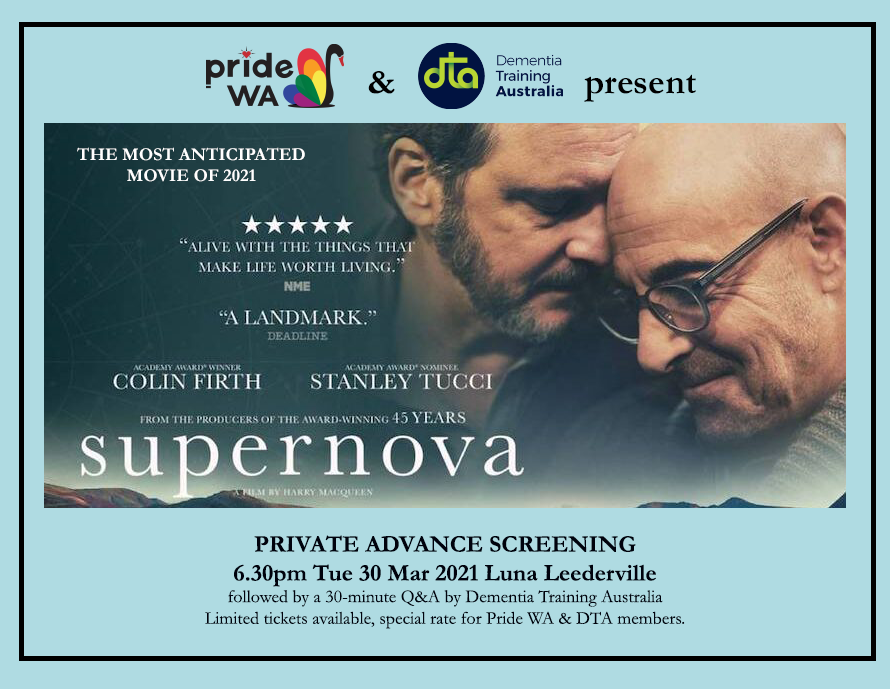 Pride WA along with Dementia Training Australia (DTA) has secured an advance screening of the highly anticipated movie, Supernova, starring Colin Firth and Stanley Tucci, at Luna Leederville on Tuesday 30 March 2021 at 6.30pm. The movie will be followed by a 30-minute Q&A by DTA which is an excellent opportunity to ask and learn about dementia and how it impacts our community.
Pride WA members can purchase discounted tickets for just $12 while non-members pay just $15. Tickets are ON SALE NOW and are expected to sell like hot cakes thanks to the buzz around this movie and limited capacity due to COVID-19 restrictions.
Members should have their membership number ready, which you can find via the Pride WA website.
BOOK TICKETS HERE: https://www.trybooking.com/BPFJI IMPORTANT: Please bring a printout of your ticket to the screening as the venue does not scan tickets off mobile phones.
Watch the trailer here: https://www.youtube.com/watch?v=I4Vk0CVcDts
Watch Colin Firth and Stanley Tucci reveal what it was like to work together on the film. https://www.youtube.com/watch?v=ERtexyGS-TA
Finally, bring tissues. It will be a safe space to ugly cry together, we promise.
12 Mar 2021
NOTICE OF ANNUAL GENERAL MEETING 24 MAR 2021
Members are advised that the Annual General Meeting is due to be held on Wed 24 Mar 2021. Full details below.
12 Mar 2021
AUTOMATIC MEMBERSHIP RENEWALS VIA PAYPAL
Over the past few weeks, some members received a notice from PayPal informing them that their recurring payment to Pride WA was cancelled.
This was done because our Wild Apricot Membership tool is changing the PayPal payment system that it was using to process payments.
We are pleased to say the transition is now complete. However, if you had previously set up an automatic recurring payment for membership renewal, you will need to set this up again. To begin, login into our Wild Apricot Membership Tool, click on the 'Membership' tab and follow the prompts to renew your membership.
Pride WA is an organisation run BY our community members FOR our community, so membership is vital in keeping it running.
19 Jan 2021
PRIDEFEST SOIREE @ UWA IS POSTPONED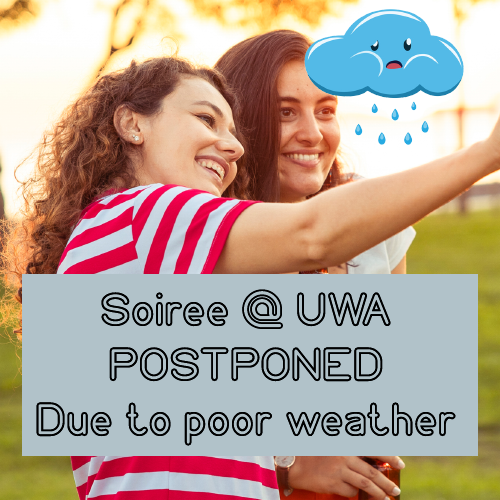 Due to unfavourable weather forecasts this Sat 14 Nov, we regretfully advise that the outdoor PrideFEST Soiree @ UWA picnic event is postponed. Stallholders will be contacted shortly, and we will advise when we are able to reschedule this event under sunnier conditions. We apologise for any inconvenience caused.
BUT THERE'S STILL MUCH TO DO ON DAY 1
HOWEVER, the other events at UWA which kick off PrideFEST 2020 on Sat 14 Nov are still going ahead as planned, and you will stay warm and dry – we promise!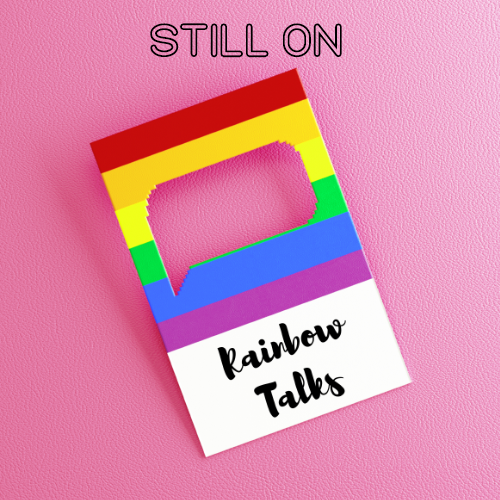 Rainbow Talks, a free event featuring talks from a host of community groups kicks off at 9am at The University Club of WA. Talks range from 45 mins to an hour. There is something for everyone and so much to learn! More details on each of the talks and booking link to reserve your spot here.
Thinking Queerly, a symposium examining the links between queer histories and their social contexts through the lens of art practices, is also happening at the Woolnough Lecture Theatre at UWA from 11am and features keynote presentations from the Hon Michael Kirby AC CMG and Dunja Rmandic, Acting Curator of International Art at AGWA. Thinking Queerly is organised alongside the exhibitions HERE&NOW20: Perfectly Queer and A Sorrowful Act: The Wreck of the Zeewijk. Cost: $10. Details and booking link here.
6 Nov 2020
ANNA GARE IS COMING TO THE GREAT PRIDEFEST BAKE-OFF!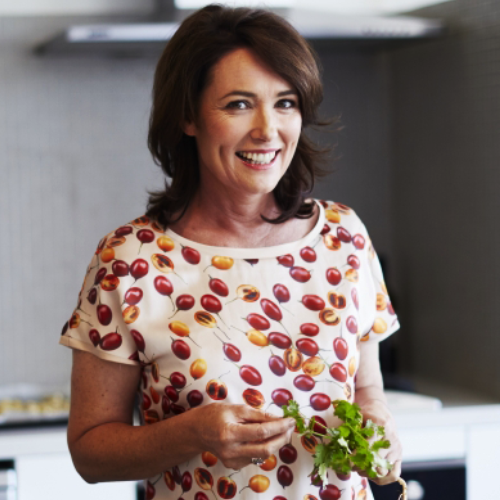 Pride WA is thrilled to announce that we have secured the wonderful Anna Gare, to MC and be a judge in The Great PrideFEST Bake-Off at 2pm on Sun 22 Nov at The Court.
Not only was Anna host of The Great Australian Bake Off and Junior MasterChef Australia, she is from WA and has even cooked for THE Queen! Now's it's time for all you Kitchen Kweens out there to show Anna the baking skills you've honed during the COVID lockdown for your chance to win a $250 gift card, thanks to Coles. There are SIX to be won!
Registration fee is $10 for Pride WA members and $15 for non-members, but spectators enter free-of-charge. Come for the festivities, stay for the cake (if you're lucky).
Details of competition categories are in our Festival Program. Register here: https://www.eventbrite.com.au/e/the-great-pridefest-bake-off-contestants-entry-tickets-12481781243.
4 Nov 2020
A JOINT UPDATE FROM TRANSFOLK OF WA & PRIDE WA REGARDING COMMENTS ON 6PR ON 28 OCT 2020
29 Oct 2020
A JOINT LETTER FROM TRANSFOLK OF WA & PRIDE WA REGARDING COMMENTS ON 6PR ON 28 OCT 2020
28 Oct 2020
STATEMENT REGARDING BASIL ZEMPILAS' COMMENTS ON 6PR
This morning, comments were made by City of Perth's Lord Mayor, Basil Zempilas that can only be described as discriminatory, dismissive and demeaning towards the Trans and Intersex communities. Pride WA is disappointed by these remarks and as the umbrella body for the LGBTIQ+ community in Western Australia, feels compelled to provide the following statement.
In regards to the comments made on the 6PR breakfast show:
It is always disappointing when individuals express views and form firm opinions without first fully educating themselves on the issues. Often people do not understand that gender and sex are two different things. Sex is your physical appearance; it is biological and it is determined by your chromosomes. Gender is how you identify psychologically, whether you are feminine or masculine, it is how you feel. It is possible to appear one way and feel another and when someone says they are Transgender they are simply saying they feel differently to how they appear. It truly is not that confusing when you take the time to understand it.
What is also concerning is that individuals who command an audience and who have influence, make hurtful and damaging comments so flippantly. Mental health issues are rampant in our Trans community because of these types of misinformed comments. In this day and age, we should be aware that life is not black and white. We should be embracing diversity and supporting each other. And Perth, seeking its place in the world as a modern, progressive cosmopolitan city, should be leading the way in doing so.
To anyone who remains confused as to this issue, we welcome them to come down to PrideFEST this November. In particular, come along to Trans 101, a presentation being run by Transfolk of WA on this exact issue. Get educated, witness first-hand the wonderfully diverse community we have and be supportive of your neighbours.
As to the future plans for the Perth Pride Parade:
Ultimately, Pride WA is a members' run organisation and the management committee would need to consult with its members about any significant changes to the usual program. However, we note that the City of Perth, as a whole, has been a principal partner and supporter of Pride WA and the Pride Parade for many years. The Council is a large organisation who employ many people who identify as LGBTIQ+ and allies of our community, and in our dealings with them, demonstrate just how much they value diversity in their City. To hold the entire organisation accountable for the words of one individual, albeit their Lord Mayor, would be unjust, particularly given the organisation itself does not choose its mayor.
Consideration must also be given to the long-standing relationship between Northbridge and the Perth Pride Parade. Northbridge has always been the spiritual home of the Perth Pride Parade. It is the one night of the year where Northbridge becomes a safe place. And there is also beauty in the ongoing support provided by local businesses, who offer water and rest stops to dancers and performers in the parade. It would be unfortunate to lose this connection and relationship because of the words of one individual.
Moving forward, the comments made on 6PR has identified a knowledge gap in the leadership of the City of Perth and Pride WA will be offering its assistance to educate these individuals on diversity and acceptance. We are hopeful that through collaboration and partnership, we can overcome these issues and improve things for the future.
12 Oct 2020
PRIDEFEST 2020 FESTIVAL GUIDE
Dear Members,
I'm am overjoyed to be able to officially launch this year PrideFEST on behalf of the 2020 Committee of Management and share the PrideFEST program with you, our valued members, and friends.
You will see from the program that PrideFEST 2020 turns the limelight on the local community. We are delighted to be bringing you many local LGBTQI+ personalities, such as Jordan Bruno and Brendan Pang; while also providing a stage to local community organisation's and groups to share their home-grown talents. The light will also be shown on the crowd (Yes, that's you!) with so many opportunities for everyone to get involved with events such as the Great PrideFEST Bake Off and the Long Table Discussion.
We are also exciting to bring you a plethora of new events this PrideFEST, many of which we hope will be ongoing attractions in future years. This includes the inaugural Rainbow Talks, the 89-er's High Tea and the Movie Sing-Along – which this year is Australian LGBTQI+ movie-megahit, Priscilla Queen of the Desert.
I would also like to take this opportunity to thank my colleagues on the board of Pride WA. Each dedicates their time and efforts to Pride in a volunteer capacity, and PrideFEST would simply not be possible without their considerable generosity. Thank you to each of you for your commitment to the community and this organisation during a particularly difficult year.
So clear your calendar! Dust off your dancing shoes! And bring the rainbow out in Perth! Capacity at all events are limited; and traditionally, events sell out even when the venue's full capacity is available. So do not wait! Read the program, plan your PrideFEST and book your tickets now! And let's make PrideFEST 2020 the best PrideFEST to date, despite the year we have had.
I hope you enjoy this year's PrideFEST program and wish you a happy Pride!
CURTIS WARD
Pride WA President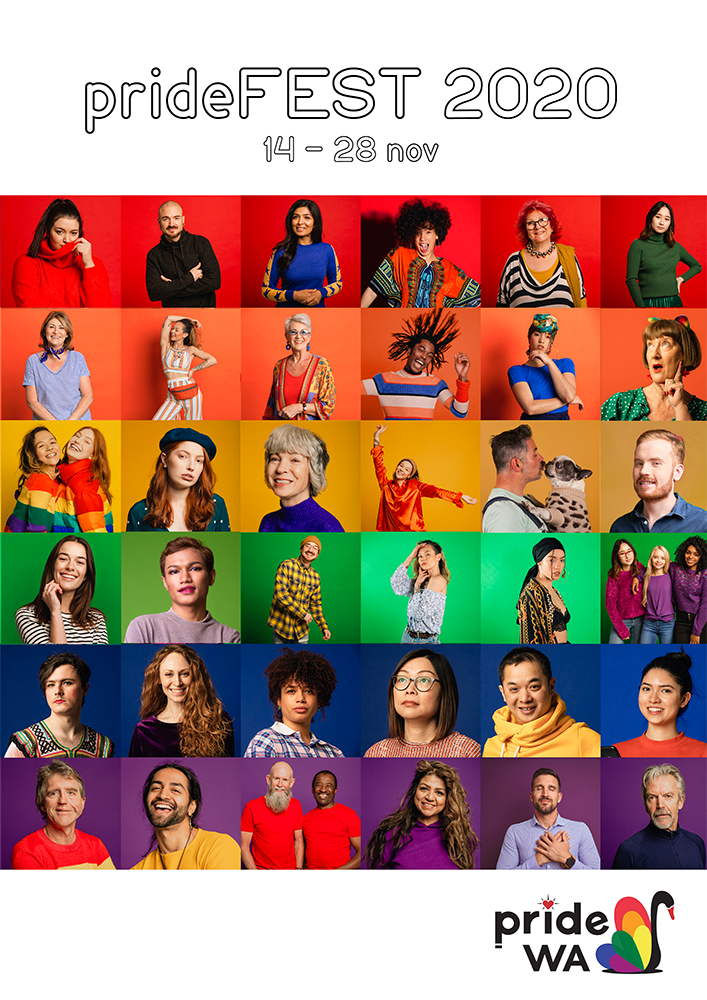 21 Aug 2020
COMMUNICATION TO PRIDE WA MEMBERS: PRIDE PARADE 2020
Dear Members,
With the recent announcement extending Western Australia's COVID-19 Phase 4 restrictions until late October, it is heartbreaking to inform you that we have had to make the decision to cancel the Perth Pride Parade for 2020.
BUT do not fret! PrideFEST 2020 is still going ahead with a range of engaging COVID-safe events for everyone to enjoy.
Since the arrival of the COVID-19 pandemic, we have witnessed the cancellation of major events, including LGBTQI+ parades around the world. The decision to cancel our Pride Parade has been an extremely difficult one to make and we understand some of you may be disappointed, but the health and safety of everyone involved in WA has to be prioritised.
As one of the largest events in Western Australia, the Parade simply creates too much risk in this time of uncertainty, where even the best strategies to combat the spread of COVID-19 have not eradicated the threat.
The decision to disclose the original plans for the 2020 Pride Parade was made based on the original road map released by the State Government in May. It appeared at that time that restrictions would be sufficiently relaxed well before November. Unfortunately, events around the country and the world have caused these progressions to be delayed.
Consideration also had to be given to the financial risks to Pride WA. Should we proceed with plans to hold the 2020 Parade in the hope that restrictions will be sufficiently eased, it would mean entering into financial commitments that we could not reverse if the Parade is unable to proceed. With the high possibility that restrictions would not be relaxed in time to stage the Parade, pushing on with plans now would be foolhardy and unjustifiably expose the organisation to significant financial risks. While we would love to hold a Parade in 2020, we must ensure that Pride WA acts responsibly and is able to continue holding parades in the years to come.
PrideFEST 2020
Although Pride in Perth was born from a march through the streets, it has grown over the past 30 years to be so much more!
Just because the Parade cannot be held this year, it does not mean that this is the end of Pride in 2020. In response to consultations with our community, Pride WA is still working to put together a Festival that is more diverse and interesting than previously seen, while adhering to COVID-safe guidelines.
We are committed to ensuring we can acknowledge and provide representation for our wonderfully diverse LGBTQI+ communities this November, and to be as inclusive as possible. In order to deliver this, Pride WA is calling on all our local community groups and performers to pull together and stage events throughout the month of November. If you are currently planning or staging an event in November, please get in touch with us at pride@pridewa.com.au (using the subject line: PrideFEST) so we could include and promote your event as part of the festival.
More importantly, Pride WA encourages the LGBTQI+ community and the broader WA community to come out in force and show its support for the groups, performers, community and its events during PrideFEST 2020. Despite these turbulent times, our community can still show its Pride.
This year, PrideFEST will run from Saturday, 14 November 2020 to Saturday, 28 November 2020. We look forward to sharing the PrideFEST 2020 program with you shortly.
Please stay safe and continue to look out for each other.
With respect,
Pride WA Committee of Management
29 Jun 2020
PRIDE WA LOGO COMPETITION
At the 2020 Annual General Meeting, members agreed to Pride WA launching a search for a new logo to reflect better what Pride WA stands for, where it's come from and one with a stronger West Australian identity.
Now here's your opportunity to have your work immortalised in LGBTQI herstory! Entries are open to WA residents (individuals, organisations or agencies) and the competition closes on 16 Aug 2020.
Full details and Terms & Conditions are below. Please read carefully and ensure you comply with all requirements when submitting your entry.
Good luck!
26 Jun 2020
MEMBERS TOWN HALL MEETING
While 2020 has tried its best to derail the plans put in place for this year's PrideFEST celebrations, the Pride WA Management Committee has been working tirelessly to turn the lemons we've been served into the best Pink Lemonade we can brew.
With the recent announcement around the lifting of restrictions, the path forward is starting to look much clearer. And we are now in a position to start rebuilding the plans for 2020.
As a member organisation, we greatly value the views and inputs of our members. Therefore, we ask you to join us at a Town Hall meeting to discuss how we can deliver the best PrideFEST in the circumstances. The Town Hall meeting will be held on Saturday, 11 July 2020 from 10.00am at the North Perth Town Hall, 26 View Street, North Perth.
With capacity restrictions still in place, RSVPs are essential. Please let us know by return email (pride@pridewa.com.au) whether you will be attending. If capacity is reached, we will arrange alternative ways for members to get involved.
26 Jun 2020
COMMITTEE VACANCY – EXPRESSION OF INTEREST
The Committee of Management is currently looking to fill a casual vacancy that has arisen on the board. A detailed advertisement for this vacancy can be found here.
Any member who wishes to express interest in the current vacancy should submit a short letter to pride@pridewa.com.au setting out their interest in Pride WA, their experience (including any qualifications) and what the can bring to the role by Friday, 03 July 2020.
26 Jun 2020
GLOBAL PRIDE
Pride WA is excited to take part in the inaugural worldwide pride celebration – Global Pride! An international initiative created by several Pride organisations from around the world, Global Pride ensures that we can still celebrate Pride despite COVID-19.
The 24-hour celebration will kick off on Saturday, 27 June 2020 at 1.00pm AWST with performances, presentations and speeches from a star-studded cast from around the globe, including a special guest appearance from our very own Pride WA. Thank you to all members that helped create the video and for making our entry one of the selected few to be beamed around the world during Global Pride.
Information on the event, including how you can watch from home, can be found at www.globalpride2020.org.
You can watch our video here (via Facebook).