PRIDEFEST
PrideFEST is Western Australia's ultimate celebration of all things queer. The celebration is an annual event traditionally held in November, to commemorate the 1989 march on the Western Australian State Parliament to demand the decriminalisation of homosexuality. PrideFEST is a state wide celebration of the LGBTQIA+ community: our history, our presence and our future.
Check out the PrideFEST 2020 Program below: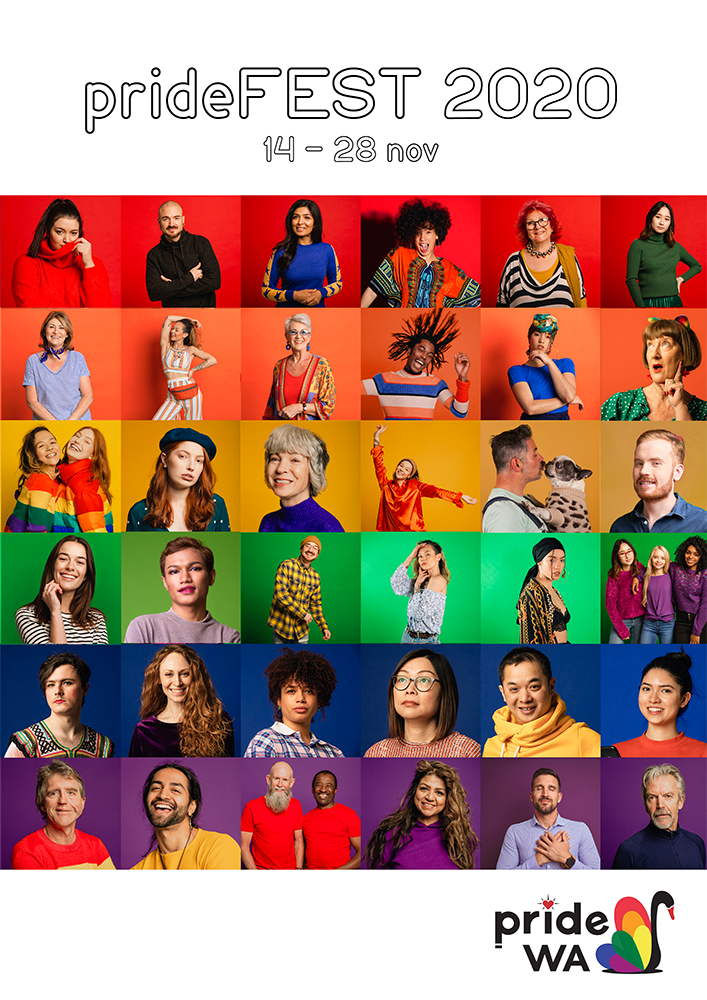 PERTH PRIDE PARADE
The Perth Pride Parade is the flagship event on the PrideFEST calendar. The largest parade in Western Australia, the Perth Pride Parade sees the LGBTQIA+ community take to the streets of Northbridge to celebrate diversity in all forms, queer culture and the artistic creations of the community.
The Pride Parade is traditionally held on the last weekend of November and is the final celebration of PrideFEST. It kicks off a night of celebration, with various after parties being held across the city taking the festivities late into the night.
Unfortunately, Perth Pride Parade has been cancelled due to COVID-19. Please refer to https://www.pridewa.com.au/latest-news/latest news for more.

FAIRDAY
A fun and friendly day outdoors for all the family (fur-babies included). Fairday boasts a variety of market stalls, food and drinks on the green with entertainment from some of the best performers within Western Australia's LGBTQIA+ community. Come enjoy the community in the fresh air and sunshine (fingers crossed)!
In 2019, Fairday returned to its home in Hyde Park and celebrated the biggest Fairday to date. PrideWA is looking forward to doing it all again in 2020.
Unfortunately, Fairday 2020 has been cancelled due to COVID-19. Please refer to https://www.pridewa.com.au/latest-news/latest news for more.
AND SO MUCH MORE
Every year, PrideFEST sees a number of LGBTQIA+ focused and friendly events staged through out Western Australia. The full calendar of events is still being put together, stay tuned for more information.
Are you staging an event that celebrates the LGBTQIA+ community, it's culture and artistic talents during PrideFEST. Click here to find out how your event could be part of the official PrideFEST events calendar.